I like to find small projects that are portable. In the evenings I find it hard to sew at my machine.
Though playing with making my yoyo's with my Clover makers. A member of my fiber arts group got me hooked on making the yoyo's and from that I went to see what other things I could make.
Kanzashi flowers caught my eyes. Diane Gilleland book explains how to make these beautiful flowers. Her blog is full of examples and information.
http://kanzashi-in-bloom.com/blog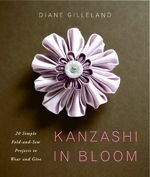 You can buy the templates from clover but this book is very enjoyable to read and look at. It has easy to follow instructions.
Here are some of the flowers I have made.
Petals...
See the yoyo's.
Yoyo's or buttons as centres.
Hair clips, pins, quilts... of what fun!